Etiquette Afternoon Tea Class at The Willard
"The Nest: A Historical Haven for Elegance
Step into the past and embrace the charm of The Nest, a space with a rich history that has been known by various names, including the Ladies Lounge dating back to 1901 and the old Tea Room. This enchanting setting at the Willard Hotel sets the stage for an unforgettable experience of refinement and sophistication during our etiquette afternoon tea class."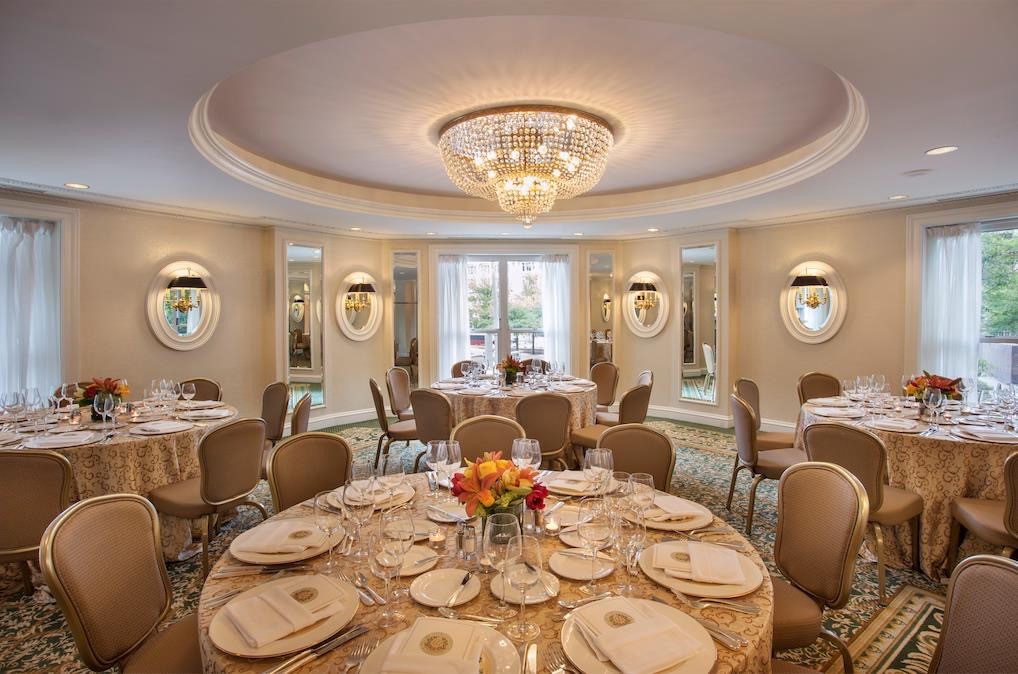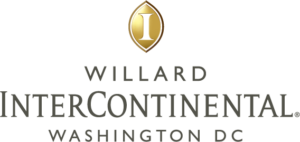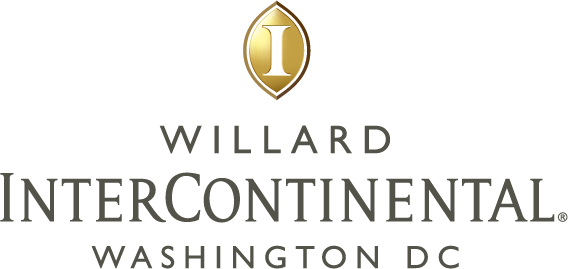 Etiquette Etiquette and Willard Intercontinental Washington, D.C. Partner to
Launch the Afternoon Tea Academy
Introducing the Afternoon Tea Academy - Elevating the Art of Afternoon Tea Etiquette
Immerse yourself in a refined experience as Karene A. Putney, CEO and founder of Etiquette Etiquette, joins hands with the esteemed Willard InterContinental Washington, D.C. to launch the exclusive Afternoon Tea Academy. Our partnership brings you a one-of-a-kind opportunity to participate in the captivating Afternoon Tea Etiquette Class, hosted by Karene herself.
Step into the timeless elegance of the historic Willard InterContinental, located in the heart of Washington, D.C., just blocks away from the White House. Renowned for hosting nearly every U.S. president since 1853, Willard InterContinental is the epitome of iconic distinction.
Discover the art of Afternoon Tea with Karene Putney, as she guides you through a live tea party etiquette tutorial during our afternoon tea classes. Delight in the enchanting ambiance of the renowned Peacock Alley, where Willard's traditional Afternoon Tea is served. Immerse yourself in the world of exceptional teas, handpicked from the finest estate and boutique blended loose leaf teas by the esteemed J'enwey Tea Company.
Indulge in a delectable array of savory finger sandwiches, irresistible pastries, and Willard's famous freshly baked scones. Experience the unparalleled joy of partaking in a tradition that has been recognized as one of the "Top Ten Places to Do 'Afternoon Tea like a Royal'" by the Travel Channel and awarded "Best Afternoon Tea" by Modern Luxury DC.
Join us at the Afternoon Tea Academy for an unforgettable journey into the refined world of Afternoon Tea, where etiquette meets indulgence, and every sip is a celebration of elegance.
https://www.einnews.com/pr_news/547855427/etiquette-etiquette-willard-intercontinental-washington-d-c-partner-to-launch-the-afternoon-tea-academy
Participants will experience
Indulge in a Regal Afternoon Tea Experience
Are you seeking a delightful, refined, and interactive afternoon affair? Look no further than our prestigious venue at the renowned Willard Hotel, where you can immerse yourself in a royal-like experience with the finest selection of teas. Join us for a captivating three-hour etiquette tea training led by Karene A. Putney, our esteemed founder, and certified etiquette trainer.
During our immersive session, you and your esteemed guests will embark on a journey of tea appreciation, exploring the vibrant history and customs surrounding tea, delectable cakes, mouthwatering scones, and delightful sandwiches. All of this occurs within the stylish and historic ambiance of our afternoon tea setting.
Whether you are a seasoned afternoon tea connoisseur or new to this exquisite tradition, our session is designed to equip you with the knowledge and confidence to navigate the intricacies of the tea table. Have you ever pondered the pronunciation of "scone" or the proper order of milk pouring? Leave your uncertainties behind, for this elegant and educational experience will provide you with all the answers, ensuring that etiquette becomes second nature.
Join us for an afternoon tea experience fit for royalty, where manners meet luxury, and your newfound knowledge will forever banish any tea-related worries.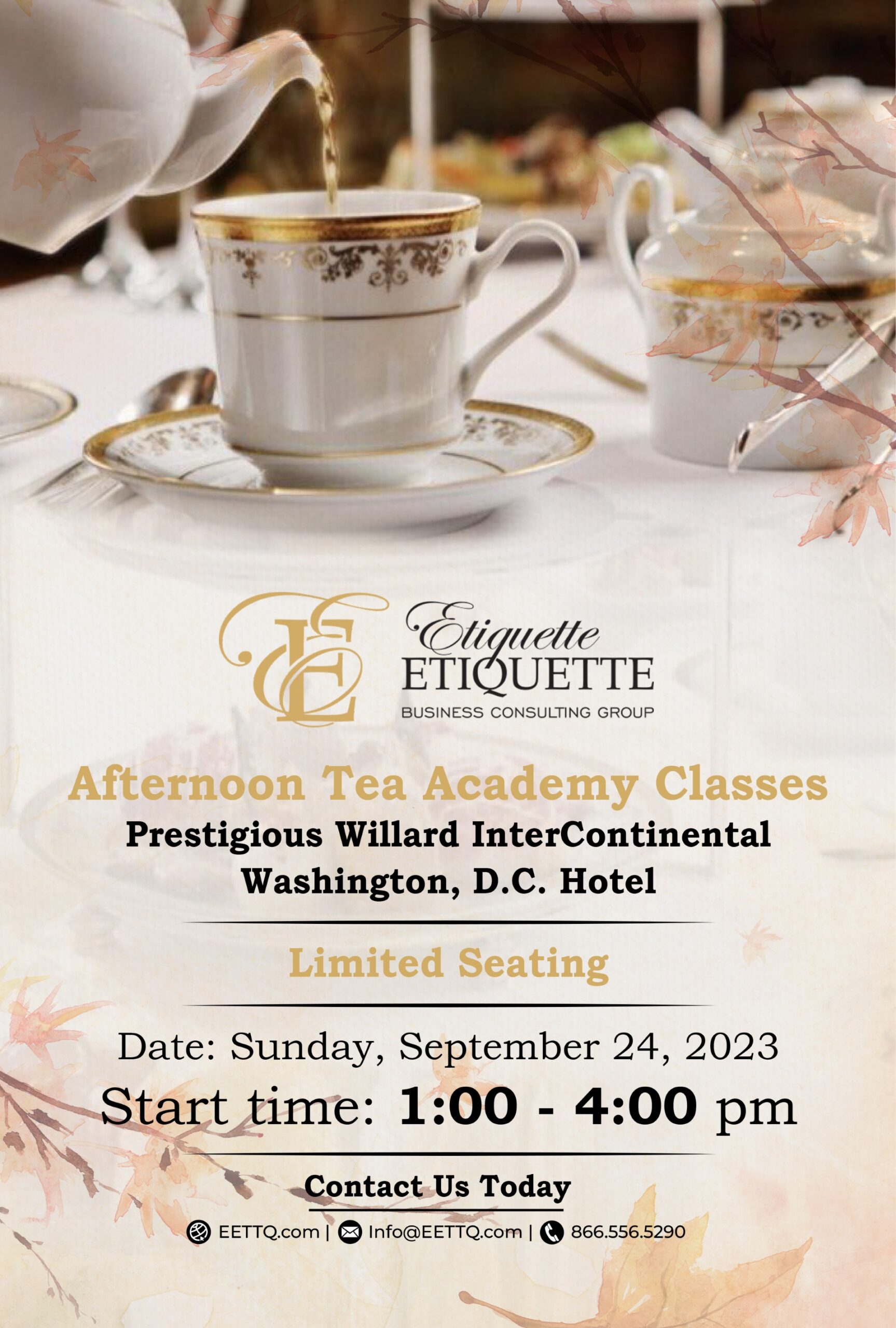 Unveiling the Art of Afternoon Tea
Discover the rich history of afternoon tea,
master napkin etiquette, and learn the art of preparing and layering scones.
Explore the proper way to hold your cup and saucer as you embark on a journey to deepen your understanding and appreciation of tea.
Delve into the world of table etiquette, engage in polite tea talk, and avoid common etiquette faux pas.
Enhance your poise with correct posture and learn how to handle spills gracefully.
What your Afternoon Tea Course will include:
Approximately 3 hours of training, including a refreshing 5-minute break halfway through
Upon completion of the course, participants will receive:
Certificate of Completion
Join us on this enchanting journey to elevate your afternoon tea experience and master the art of refined etiquette.
Space is Limited
For questions on registration, please email: [email protected] or call 866.556.5290
This course is held at The Willard Hotel.
Location: The Willard 1401 Pennsylvania Avenue NW Washington, DC 2004, Two Blocks from The White House.
Your investment includes tuition, all taxes, formal afternoon tea, etiquette training, a book & certificate. 

*The afternoon tea class price increases by $50 per person during the holiday season!
Group Discounts- 10% Off Party of 5 
Nonrefundable Tickets: Cancellation Policy - Flexibility for Your Convenience
We understand that circumstances may arise that prevent you from attending our events. While event tickets are nonrefundable, we offer the convenience of ticket transferability. If you cannot attend, kindly notify us at least seven days before the event's start date. This allows us to accommodate your needs by offering two options:
Rescheduling for a Future Date: We would be delighted to assist you in rescheduling your attendance for a future event. Simply inform us of your preferred date, and we will make the necessary arrangements to ensure your continued enjoyment of our offerings.
Transferring Tickets to Another Individual: If you cannot attend, you can transfer your tickets to someone else. Please provide us with the details of the individual who will be attending your place, and we will gladly make the necessary adjustments to accommodate their participation.
At Etiquette Etiquette, we strive to provide flexibility and exceptional service to our valued guests. Please get in touch with us regarding any changes or inquiries related to your event tickets.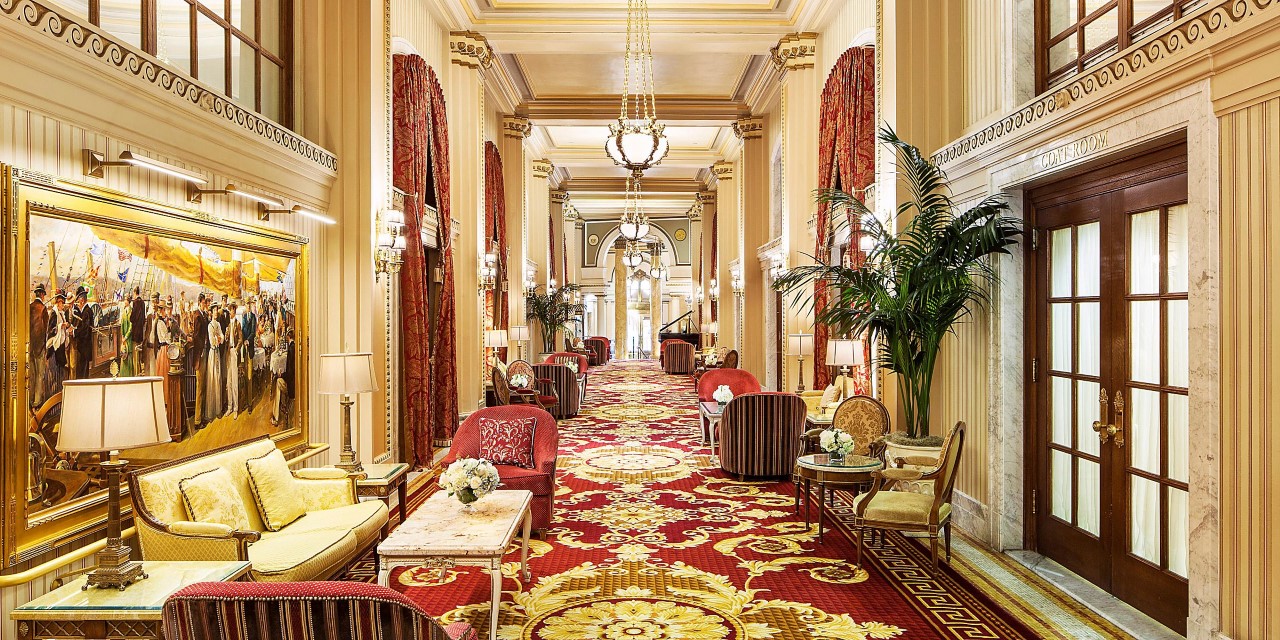 COVID-19 Guidelines for Your Visit:
We are excited to inform you that Washington, DC is open for business and eagerly awaits your arrival. As you plan your visit, we want to provide you with important information regarding COVID-19 guidelines:
Proof of Vaccination and Mask Policies: Washington, DC, generally does not require proof of vaccination or masks for visitors. However, we encourage you to check with individual establishments and venues regarding their specific COVID-19 protocols. Different businesses may have varying guidelines to prioritize their guests' health and safety.
Stay Informed: For the most up-to-date information regarding COVID-19 guidelines and regulations in Washington, DC, we recommend visiting the official website of the DC government at coronavirus.dc.gov. This valuable resource will provide you with the latest information and guidance to ensure a safe and enjoyable visit to our nation's capital.
Your Well-being Matters: While Washington, DC is eager to welcome you, we kindly ask that you remain mindful of your well-being and the well-being of others during your visit. We encourage you to follow recommended health and safety practices, such as practicing good hand hygiene, maintaining social distancing when appropriate, and staying home if you are feeling unwell or displaying any symptoms of illness.
Thank you for your cooperation and understanding as we navigate these challenging times together. We look forward to providing you with a memorable and enjoyable experience in Washington, DC. coronavirus.dc.gov.

Located in downtown Washington, D.C., two blocks from The White House and steps from the iconic monuments, memorials, and museums on the National Mall, Willard InterContinetal Washington, D.C., is easily accessible by many modes of transportation.
Parking Garage: Colonial Parking®
Parking at The Willard
Valet parking is available for all hotel guests 24 hours a day. 
Guests may call for their vehicle at least 20 minutes prior to departure
The overnight valet parking rate is $59.00 and includes unrestricted in and out privileges
The Willard garage vehicle height restriction is 6′ 5″
Motorcycles are permitted in the garage only if the hotel guest is staying overnight. Day parking for motorcycles is not available
All oversized vehicles, including buses, campers, RV's, and cars with trailers, are not permitted in the garage. Please see alternative parking options available at Union Station.
Parking Rates
0-2 Hours: $26
2-4 Hours: $30
Max/All Day: $35
Address: 1401 Pennsylvania Avenue NW Washington, DC 20004
Phone number: (202) 628-9100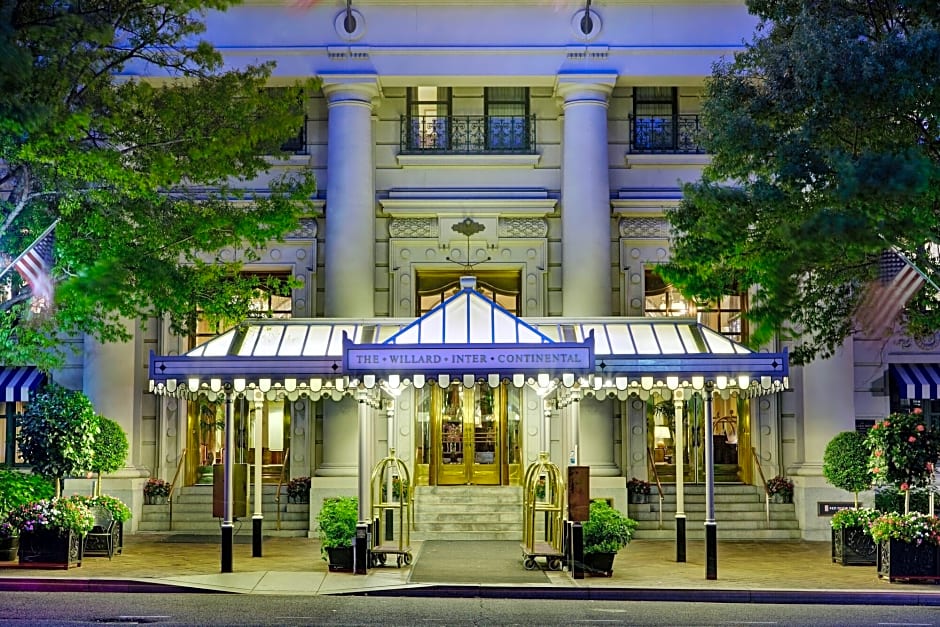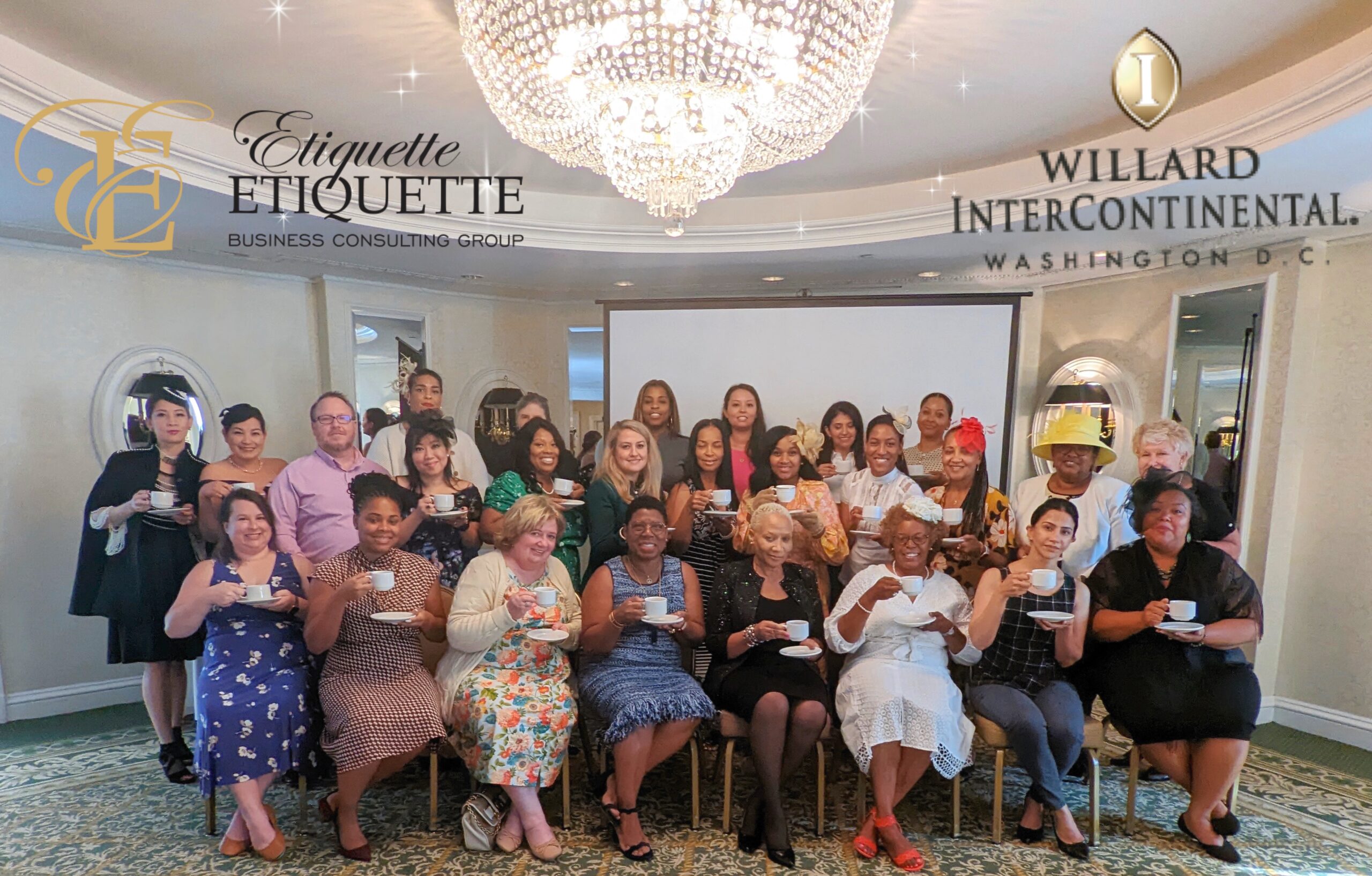 By registering for a class or event with Etiquette Etiquette, you acknowledge and agree to grant permission for the use of photographs and videos capturing your image for promotional purposes. This includes but is not limited to Etiquette Etiquette's marketing efforts on various platforms such as our website, public internet marketing, Facebook, Twitter, Linkedin, and Instagram.
We appreciate your understanding and willingness to participate in our promotional activities, as it allows us to showcase the engaging experiences and valuable insights our classes and events offer. If you have any concerns or questions regarding using your image, please get in touch with us.

Dress Code Guidelines for Afternoon Tea
We kindly request that guests adhere to the following dress code for our Afternoon Tea events:
Afternoon Tea Dress Code: Please dress in formal or "semi-formal" attire, combining elements of formal and informal styles.
To maintain an atmosphere of elegance and sophistication, we kindly ask that you refrain from wearing trainers, jeans, t-shirts, shorts, or sportswear. Gentlemen are encouraged to wear a collared shirt to complement the occasion.
Thank you for understanding and respecting our dress code guidelines. We appreciate your helping us create a refined ambiance for all our guests to enjoy.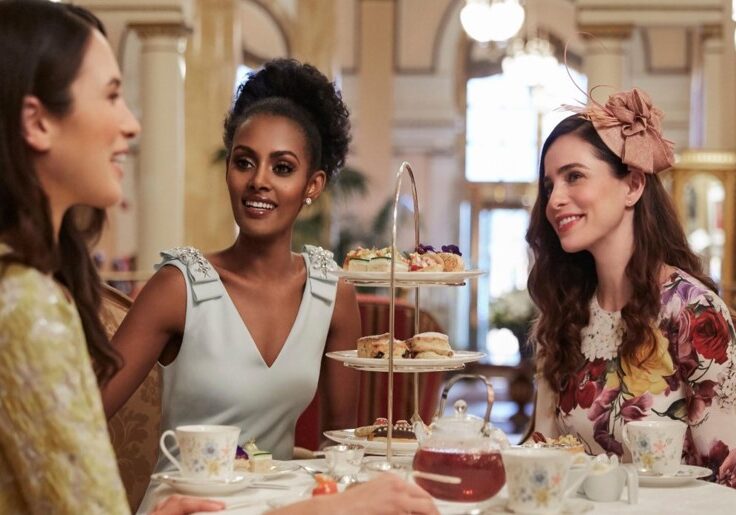 Discover the Advantages of Attending Our Afternoon Tea Class: Hear from Our Graduates!
Karen is a professional, polished, and knowledgeable presenter!  The afternoon was informative, elegant, and entertaining.  I look forward to future Etiquette Etiquette presentations.
First, Karene and her husband are such amazing people. I had such a wonderful time learning about the history of tea and Afternoon tea. The whole event was such a beautiful experience that I will remember forever!
I attended the Afternoon Tea Academy in September. The presentation was very informative. I have been a fan of etiquette, elegance, and tea for a long time. And still managed to learn something new. The Willard was beautiful and welcoming. The perfect setting for afternoon tea. The service was wonderful.
My table never had to wait long for a refill of beverages, and the courses were timed excellently. I have to be gluten-free. The food seemed just as delicious as my fellow classmates. The gluten-free food was bought out separately from the other dishes. I had no fear of cross-contamination. I was pleased all around. I have my certificate displayed. And have read the little etiquette guide we received. I was also happy to hear that the class supports the Flint, Michigan, community.
Fabulous Tea & Etiquette Class
We had a great time at the Tea Time Academy. My son has been trying to teach one of his sisters how to hold the fork. It's easier for us to give each other gentle etiquette reminders since we have that shared experience.
- Sunny Norwood Buck. PhD
Mrs. Putney, This was an awesome class. So glad we got the opportunity to take part. I've already recommended your course. Thanks again!
I recommend for anyone interested to sign up now! Karene is fun, informative, and professional. Well worth your time if you are curious about Afternoon Tea.
Attending the Tea Academy at the Willard was a lovely way to spend a Sunday afternoon. The information presented was inciteful and the interaction of the group made it great fun. Kudos to Ms. Putney.
I loved the engaging energy Karene was able to create at the Tea Academy. From her slide presentation to her wonderful smile, this experience was indeed one I enjoyed!
Beautiful place to learn, Mrs. Karene Putney is very soft-spoken and elegant. Really enjoyed our time at Afternoon Tea
This event was so informative jammed packed with so much information but at the same time fun. I laughed, enjoyed some delicious food, and met some new friends. The host and her daughters were on point.
The experience with Etiquette Etiquette for the Tea Academy was amazing. Very professional, and I learned a lot about proper table manners as well as afternoon tea academy.
The experience was well worth it. A wonderful afternoon, elegant and informative. I would attend again and recommend that others attend. Lady Karen and her beautiful assistants exhibited grace, elegance, and class as well as style. Truly an A1 rating.